Abel Brčić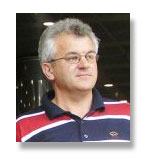 Abel Brčić born in 1956. in Žrnovo on the island of Korčula. He graduatted in 1978. although he has been paintingsince 1974.
He works as an Art teacher with children in Korčula.
Since 1986. He has been a member of German Art Association "Bund fur freie und angewandte Künst" in Damstadt.
He had his first own exibition in 1980. in Korčula and since then his works have been exhibited at many regional exibitions. He is mamber of Croatian Association of Fine Artists.
He shows us the landscapes of the island of Korčula, the marinas bays and fields.Oils, pastels and watercolours are various forms of his artistic expression. His pictures are in the private collections all around the world.
He lives and works in Korcula.